What is Unbounce?
Unbounce is a landing page builder that allows you to quickly build, customize, and optimize conversion-friendly landing pages. It's one of the most popular landing page builders on the market.
Founded in 2009, Unbounce has since grown from a small startup to one of the leading landing page products on the market today.
But with competition heating up in the space, and a lot of good alternatives on the market (we're looking at you Instapage and Leadpages), is Unbounce still the best landing page builder to choose in 2020? In this Unbounce review we take a comprehensive look at it's feature-set, pricing, pros + cons, and what type of user it's a good fit for.
Why use a landing page builder like Unbounce?
Landing page builders are great for marketers. You don't need to get engineers to help you build or edit pages. So you can churn out on-brand, high converting landing pages in a matter of minutes.
With competition in the space increasing, and technology advancing, these page builders are including more advanced features and leveraging advances like machine learning to help marketers.
We take a comprehensive look at some of the tools features below:
Unbounce features
Landing pages
The main reason you're using Unbounce is for the landing pages. And oh boy does it excel here. We break down all the features of Unbounce landing pages below:
Drag and drop builder
Without a doubt, this is the killer feature of Unbounce. There's no other landing page tool on the market that is as easy to use. You can quickly drop in page sections, add text, images, shapes and even custom HTML and video to your page. Unbounce perhaps doesn't have the most aesthetically pleasing UI, that award goes to Instapage, but it's usability is second to none.
Clone, copy and paste pages – optimize what works
Unbounce allows you to quickly clone and paste pages, so you can copy existing killer variants, and make small changes in a methodical manner. The user interface here is seamless, and hard to fault.
A/B testing
One of the original unique selling points of Unbounce: it's testing capabilities. Unbounce enables marketers to quickly run page experiments, pitting one page against another to see which performs better.
They even provide a swish experiment dashboard, with charts and metrics to see which is winning. There's even a metric for confidence level, so you can see if there is enough traffic to make a statistically reliable decision. A/B and multivariate testing is available to Optimize plans and above.
Smart Traffic
Building upon it's A/B testing features, Smart Traffic is a relatively new release from Unbounce. This machine-learning feature looks at visitor attributes and sends them to the landing page variant which is most likely to lead to a conversion. Pretty futuristic stuff. Over time, the system automatically learns which pages convert best for which user, and optimizes page routing accordingly.
This move into AI-based conversion optimization is promising, and gives Unbounce a significant first-mover advantage in comparison to other landing page builders. It doesn't even need a huge amount of data to start running (around 50 visits apparently!).
SSL
SSL or Secure Sockets Layer is a must-have in 2020. It establishes trust with new visitors, adds an extra layer of security and is just a general best practice for the modern web.
Google even cites it as a potential ranking SEO factor. If you're transacting credit card or sensitive information, SSL encryption is essential. It changes the URL from "http" to "https" and shows a little green padlock in the URL bar, with that your prospects know they're browsing a legitimate site that takes their security seriously.
Dynamic text replacement
If you're running Google Ad or other SEM campaigns, listen up. Dynamic text replacement or DTR is sick. With DTR you can achieve the best possible message match between your keywords, ad copy and landing pages. If you also use dynamic keyword insertion (DKI) in Google Ads campaigns, you're well on the route to hyper-relevant and high converting landing pages.
Unbounce DTR is pretty simple to set up, you specify which text on the page you want to dynamically change, setting a fallback/default for if it fails. Then you send traffic to the landing page using URL parameters which specify what will appear in these dynamic text sections.
For example you could set a url parameter of 'service' and have a few different types e.g. dog walking, dog grooming and dog training. You can then swap out which service you mention on the landing page by making small changes to the URL.
It can be used in a simple manner for changing one word in a headline, or to change multiple sections throughout the page. We recommend starting off simple, then experimenting with additional customization if you begin to see results.
Used correctly, we've seen DTR significantly improve paid search conversion rates, and a noticeable increase in Google Ads quality score after implementation.
Mobile responsive pages
As a digital marketer, you need your landing pages to be instantly and perfectly responsive across different devices. Thankfully, Unbounce makes this a breeze.
Unbounce's standard templates are mobile-responsive as standard, while if you want to build your own or make some edits, Unbounce makes it easy to hide and resize elements for different devices. With their intuitive preview mode you can see how your page looks on both a web and mobile device.
There's even a feature to automatically adjust content for mobile, but it produces mixed results, with manual tweaking and QA recommended.
Custom scripts and pixels
Unbounce makes adding custom tracking scripts and pixels to your pages very simple. There are two-options: script manager for domain-wide scripts, and the option to add custom scripts to individual pages.
Script manager is ideal for setting up things like Google Tag Manager, you can even specify which domains linked to your account to associate with each script. Then for tracking different conversion types on different pages you might want to use custom scripts for individual pages.
The bottom line here is that Unbounce's script/pixel management system is super flexible, and ideal for marketers who want to get things launched quickly with minimal technical hassle.
Common tools like Google Analytics and Tag Manager come with pre-built script templates, meaning you only have to type in your tracking or container ID to get started.
If you need to add custom scripts you can easily do so by pasting in the script you need, and specifying where it should be placed (Before body end tag, After body end tag or in the page Head).
You can also decide if the script should fire on the main landing page, or only after form confirmation, or when a lightbox is opened.
Accelerated mobile pages
Accelerated mobile pages, or AMP, are Google's mobile-optimized web standard. Supposedly they load 85% faster than normal web pages. With page speed and load time crucially important (data suggests that for every 1 second delay in loading, there is a corresponding 7% drop in conversions), these could be a useful addition to a marketers arsenal.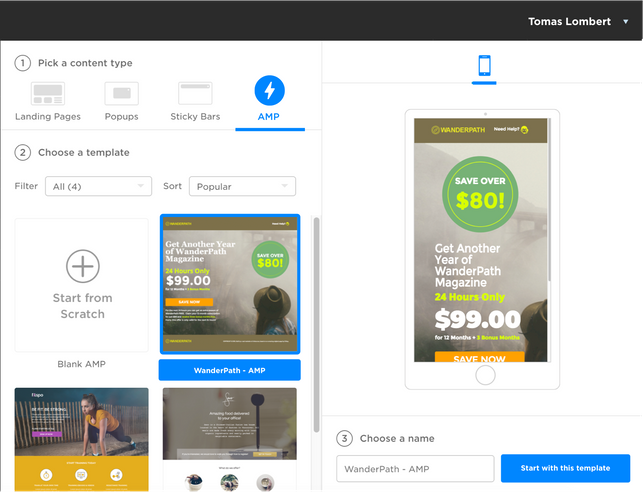 However, they're not exactly a killer feature, and frankly we haven't used them on any campaigns, or for any clients. Unbounce does a pretty good job of loading pages quickly as standard (using it's content delivery network and image optimization features, more on that later!). But, if page speed is super important to you they're definitely worth a look.
Built-in Google fonts
Often, WYSIWYG or website builders come packaged with a set of fonts, which are passable, but not outstanding. With Unbounce, you get access to the full collection of Google fonts as standard, on all pricing tiers. This is great if you use custom fonts that are a little beyond the norm.
However, even if Google doesn't have your font, you can easily link to a custom CSS file to pull the exact font you want into your page. It's a very flexible system.
Video backgrounds
If video is your bag, you're in the right place. Unbounce makes it easy to add slick video backgrounds to your page.
All you have to do is specify the URL of the video, so you can easily host on YouTube or Vimeo. We like to use these in the Hero section of our landing pages, and they add a modern touch to any page design.
Parallax scrolling
A parallax background scrolls slightly slower or remains static while a person navigates down a page. They were all the rage a few years ago. While now a bit passe in 2020, Unbounce allows you to create a parallax effect with the click of a button.
Popups and sticky bars
What's neat about Unbounce is that it's not just a landing page builder. It is actually a fully featured popup and sticky bar builder, that rivals even dedicated products on the market.
You know what popups are, and love them or hate them, they still convert pretty well.
Sticky bars are a slightly different beast and a little more subtle. They appear and stick to the top or bottom of a page, as a user scrolls they 'stick' in position to emphasize your offer or message until the user closes them.
You've likely seen one of these sticky bars used to declare the use of cookies on a site, or to inform users of Covid-related changes to a business.
These popups and sticky bars are super easy to build, using the same intuitive drag and drop editor as landing pages. We take a look at some of the features included below:
Triggers
You can set your popups to appear on a variety of different triggers. These include behavioural triggers like intent, time on page and scroll depth.
You can also set more advanced targeting based on attributes like the geographic location of site visitors, past behaviors (cookie targeting), or by visitor referral source. This all adds up to make these a powerful tool for smart marketers.
Schedules
This is particularly useful for those working in eCommerce – you can set campaigns to run automatically, based on a certain date or period of time. Ideal for seasonal promotions.
A/B testing
Yep, you guessed it. As with Unbounce's landing pages, these popups and sticky bars come with full A/B testing and reporting functionality.
Popups and Sticky Bars Verdict:
Despite not being the core product, Unbounce popups and sticky bars perform as good, if not better than market-leading products like Sumo and Elementor. With a rich feature-set and ease of use it's hard to go wrong here.
Bonus: Unbounce chrome extension
A nice bonus, but by no means essential feature is that Unbounce also comes with a handy extension for Chrome users. It allows users to easily detect any Unbounce page, popup, or sticky bar & get data, performance statistics, & debug information all without navigating to another page.
Unbounce pricing
Conversion-based pricing
In June 2020, Unbounce announced a new pricing structure. Based on how many conversions you need, along with tiers for access to product features. It's an interesting approach that shows they are willing to stand behind a product that will get you more conversions. Your growth helps theirs!
Which plan is right for me?
All plans include unlimited landing pages, popups and sticky bars. Launch is the basic tier, and offers more than enough for marketers running a smaller operation. We'd recommend Optimize or Accelerate, especially if you service a couple of clients or have a few domains you need to hookup.
If you're looking at a larger volume of traffic, or need to connect a bunch of domains, Scale is ideal. It's probably better suited to agencies that have a few clients.
For bigger agencies – Concierge is the plan to go for. And to get it you're going to have to talk to Unbounce sales. If you need to connect a bunch of client domains and are getting crazy traffic, it's the plan for you.
The conversion thresholds at each stage are pretty generous, for most small businesses 500 conversions is a lot, so if you just need to connect one domain the basic Launch tier is the best option.
But, some of Unbounce's best features aren't unlocked until you move to the Optimize plan. Optimize offers A/B testing and Smart Traffic (more on that later!) features that help you really improve your conversion rates and run marketing tests at scale. We'd recommend this for 99% of marketers, as it really allows you to make full use of the platform and it's features.
Note: if you choose the annual plan, you're entitled to a 10% discount.
Curious about how this pricing compares to other tools? Check out our deep dive into landing page cost.
Does Unbounce have a free trial?
Yes, all Unbounce plans come with a 14-day free trial. The trial can be applied to any of the pricing plans, so if you need to audit more advanced features that's no problem.
Unbounce integrations
This is where Unbounce really shines. It natively integrates with a mind-boggling number of third-party tools, including almost all of the most popular CRMs, Marketing Automation, data management and advertising tools.
If by chance you can't find what you're looking for, Unbounce plays nicely with Zapier, so you can connect it to any service imaginable via Zapier's visual integration builder.
Unbounce security
Great features are going to help you kick-ass as a marketer, but if you get hacked your boss might not be so happy. Luckily Unbounce has some cracking security features as-standard, such as:
2-factor authentication
Automatic SSL
GDPR compliance
Unbounce performance
Reliability is solid here, Unbounce has a 99.96% uptime record. And while we've seen it go down a few times, it's never been for too long. That's a scary prospect for high-volume businesses, but for most people the reliability is as good as anyone would need.
CDN and distributed servers
Unbounce uses a content distribution network (or CDN) of five distributed datacenters to serve content faster. Depending on where you're browsing from, a different datacenter will be used to serve up the content. Making the pages lightning fast wherever you are in the world.
Speed Boost and Auto image optimization
Unbounce comes with a Speed Boost feature that automatically minifies JavaScript files, optimizes CSS and all the other nitty gritty stuff that Google advises. By following Google best practices for speed loads, they've done a fantastic job in creating a fast page builder. It loads a lot faster than Wix, Clickfunnels and other builders we benchmarked on.
Another cool feature is auto image optimization, this compresses any image files on a page automatically, resulting in zippier load times. You don't even have to change any settings to activate it, and the resulting compressed images remain crisp and high-quality.
How's the support?
Unbounce has some of the best customer support of any SaaS tool we've ever used. They have both super-helpful documentation and a variety of channels to field support requests.
There's an in-depth documentation center with answers to common issues, and guides for implementation and best-practice. If you need to talk to an actual human you can reach their support line via a phone call, or submit a live chat or email from 1am-8pm PST. Their team is even available on the weekends (marketing never sleeps!) with email support active from 9am-9pm PST.
Most SaaS tools we use only support live chat and customer support via ticketing. However with Unbounce if you need an answer fast, it's refreshing to be able to pick up the phone and get an answer right away, in this day and age this level of customer support is truly rare, so kudos to Unbounce for delivering.
They also have an awesome community, where marketers can get together and share insider tips and tricks. We've picked up a bunch of ideas from this forum, and we highly recommend checking it out.
Pros and Cons
Alright so we've covered all of the features of Unbounce in depth. Below we look at some additional pros and cons that might be of interest to power users and experiences marketers:
Pros
Lots of features for paid search campaigns
If paid search is important to your business or agency, Unbounce is a no-brainer. With dynamic text replacement, easy variant testing and more integrations than you can shake a stick at.
So easy to use
There's barely any learning curve for Unbounce. Even simple marketers like us can get up-to-speed and build pages in minutes. A small business owner can quickly grab pre-made templates, update colours and branding and they're ready to launch. The page editor and overall UI is intuitive, so you can spend more time on big creative ideas and less time tinkering with your landing pages.
Does the job of two products
Since Unbounce comes bundled with a landing page and popup/sticky bar builder, you can kill two birds with one stone. For teams juggling multiple SaaS products and tools for specific tasks, it's refreshing to have one tool that does two different things very well.
Cons
Can't upload HTML/CSS
If you're used to the common workflow of designing pages with a vector graphics tool, exporting a jpeg to your developer and coding out a page, you're in for a rude (or pleasant!) surprise. Unbounce only allows drag and drop design. You can add custom HTML blocks and custom CSS/JavaScript, but the core page builder is WYSIWYG editor. This is great for marketers and non-technical folk, but can be frustrating for designers and developers used to a different workflow. That being said, this is why we love the tool, because you don't have to fiddle with any code or technical bits.
Finish
Sometimes the 'finish' of a landing page isn't as good as you can get with a hardcoded page. We're not sure why, but sometimes the font or other elements seems a little off. This is fine if you're generating leads for a construction company, but if you're a web designer you might need a little more polish on your pages. Experienced marketers can often tell if a page is built with Unbounce due to some telltale aesthetic traces. But this isn't a big deal, as 99.9% of people won't notice, and if they do notice, they won't care!
No native support for multi-step forms
Multi-step forms are proven to increase conversion rates, and we've had roaring success with them in the past. However to build them in Unbounce you need to use a workaround or a custom script. Adding them as a core feature with A/B testing functionality would greatly increase the power of the form builder (Unbounce product team take note!)
Our verdict: 4.5/5
Unbounce is hard to fault. It's one of the best landing page builders on the market. From small businesses and freelancers to big agencies and enterprise users. It's robust feature-set and ease of use, at a reasonable price point make it really hard to beat.
If you want to get your landing page program off the ground, or quickly convert traffic from PPC campaigns, it's a no-brainer. The ease with which you can implement custom scripts makes it very powerful for marketers working in paid acquisition – it's simple to set up your tracking tools to ensure rock-solid attribution.
For most marketers, Unbounce packs more than enough bang for the buck to reliably generate leads and drive sales, and with the wide range of templates for different industries and verticals, it's very easy to quickly customize branding and launch.